my dear God's people. God bless you. Who is such a fool, who would not want to be blessed by God? Because of the blessing of God is in life then there is peace. If you want to be blessed, you have to take care of 5 things. Today in this article we will see how to receive God's blessings?. What should we do to get God's blessings? I say that anyone who starts reading this article will be blessed. Because this type of article will only be read by those who are hungry and thirsty for righteousness. Matthew 5: 6
1: Use tongue and mouth to receive God's blessings
If you want to get blessings, then your tongue and mouth have to be stopped from doing evil to anyone. Because nowadays people do evil instead of evil. But the word says, bless instead of evil, not evil. Because you are called to receive blessings. "For whoever desires life, and wants to see good days, may keep his tongue from evil and your lips have to stop talking deceitfully." 1 Peter 3:10. Then you will be blessed.
Therefore "stop your tongue from doing evil, and guard your mouth so that from him does not come out of deceit talk." Psalm 34:13. Psalm 5:9-12
2: behaviour
You may have heard that respect brings respect. Therefore, treat people as you expect them. this is the law and education of the prophets. Matthew 7:12. It means if you want to take blessings, then you have to make a habit of blessing. Because it is written in Matthew 7: 1-2; If you blame someone, then you will also be blamed. The measure with which you measure will be measured for you as well. So be careful, because if you bless, you will be blessed. If you will curse or abuse people, then where is the expectation of blessing. Therefore tie the lord's teachings to your heart.
3: Humble
It is written in Psalm 37:11, (Mathew 5: 5) "But the meek shall inherit the earth, and shall delight themselves in the abundance of peace." A person who is humble is blessed according to the word of God. God has said that you will possess the earth, then this blessing is given to a person who has become humble. Humble yourself and receive God's blessings. Moses was the most humble man in God's eyes. Numbers 12: 3. Therefore, you too should follow the teachings of the Lord and be humble and receive the blessings of God. you can also read this word for blessing. Mathew 11:29
4: Thinking for God.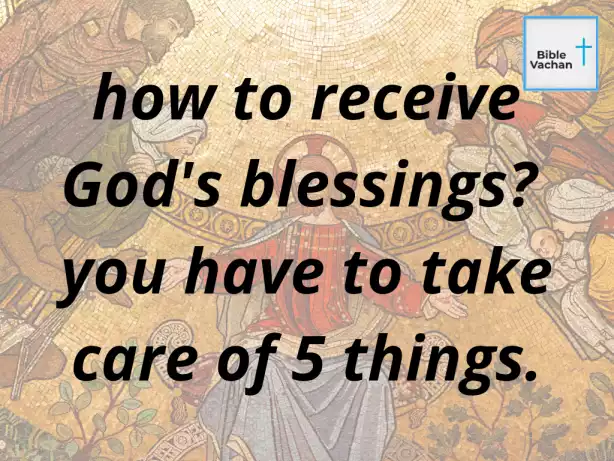 Those who are engaged in the concerns of the world do not get the blessings of God. But one who thinks about the kingdom and righteousness of God gets God's blessing. Mathew 6:33. You all know that Dawood was a great king. He thought he wanted to build a temple for God. Seeing such good thinking, God gave him a great blessing. 2 Samuel 7: 1-29. This shows that people who think for God are blessed.
5: righteous person
To be blessed by God, you have to be a righteous person. Because God lives with those who follow the way of righteousness. The Bible states that Yusuf walked according to God's will. Potiphar's wife wanted to have a wrong relationship with him. But he did not sin. Genesis 39: 3–13. Therefore God bestows upon him great blessings, and he becomes the Prime Minister of the country of Egypt. Genesis 41: 38–43. If you also want to be blessed, do not sin. Because God keeps the distance from sin.
God bless you for reading continue.